Although airlines can't influence how travel demands will change in the wake of the pandemic, they can pursue ways to emerge stronger than ever.
This article will take about 4 minutes to read
The airline industry is in the midst of an unprecedented crisis. Having been hit harder and faster by the coronavirus outbreak than most industries, airlines will also have to deal with the implications for much longer. Because of international and national travel bans, several have already suspended operations. Some are closing up shop forever. As more people are being forced to work from home, they are realizing that it can work. This could reduce the number of business travelers even once the pandemic subsides.
Although many things are uncertain, the industry will surely have changed once the world has coped with COVID-19. In this article, we consider what the future of aviation might look like and discuss what airlines can do to make it to the other side stronger than before.
Airlines: An Industry of Growth
Global air travel has almost tripled over the past two decades. Previous crises such as 9/11 and SARS between 2001 and 2003 as well as the 2008 global financial crisis only led to slight decreases followed by periods of accelerated growth.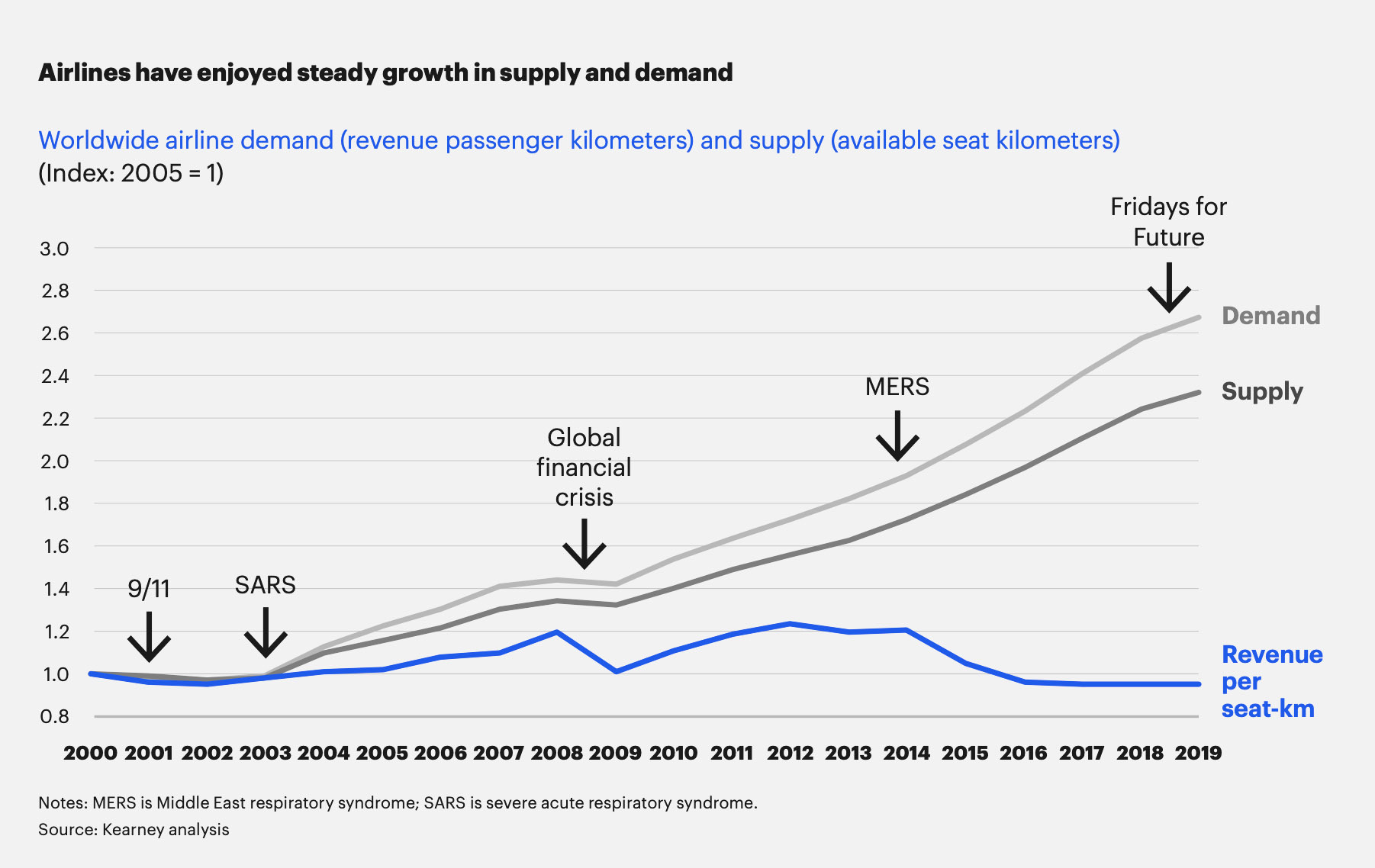 Since 2010, demand and supply growth has constantly exceeded 6% per year. This flattened only a little in 2019 with the spread of Greta Thunberg's Fridays for Future movement to protest the lack of effective climate legislation. Overall, the past decade has been filled with years of strong capacity and passenger growth. Earning the honor of being one of the aviation industry's best decades.
During that same period, many smaller airlines went bankrupt, and the market has consolidated. In the United States, many airlines collapsed after 9/11 or during the 2008 global financial crisis, leaving four big players: American Airlines, Delta Airlines, United Airlines, and Southwest Airlines. 2019 saw more than 30 airlines cease operations in the wake of another wave of bankruptcies.
In Europe, low-cost carriers such as EasyJet and Ryanair brought prices down, forcing many others to do the same. This can be seen in the revenue per seat kilometer (shown above), which has decreased since 2015 when Ryanair started to significantly increase the number of aircraft and transport passengers.
The Game-Changer
But now we're amid a global pandemic. In March, the big European carriers stopped their flights to China. In the following months, more than two-thirds of all flights in Europe had been canceled. Lufthansa was operating only 5% of its scheduled flights and had completely stopped the operations of Austrian Airlines, Brussels Airlines, and Air Dolomiti. Ryanair stopped almost all flights, reevaluating the situation on a weekly basis. EasyJet grounded its entire operation. The US market only saw a small decrease in March. That changed quickly, however, given the rapid growth of COVID-19 cases. Announcements came from the big carriers, such as American Airlines, which suspended 60% of its capacity in April and 80% in May. In Asia, India closed its domestic market at the end of March, and Qantas and Air New Zealand suspended all international flights. 
Some airlines quickly went bankrupt. Flybe, Europe's largest independent regional airline with 8 million passengers per year, collapsed in early March. In the United States, Trans States Airlines and Compass Airlines, which had operated regional flights for United and American Airlines, ceased their operations.
The New Normal
Amid this chaotic environment, it's almost certain that the aviation industry will have changed by the time the COVID-19 pandemic is over. But what will it look like? Will customer behaviors change? Is the next wave of bankruptcies coming? What can we learn from previous crises? To assess the possibilities, we discussed future travel policies with senior executives from Germany, the United Kingdom, the United States, and Hong Kong.
Face-to-face contacts have long been seen as vital to meaningful business interactions, relationship-building, and commercial success. Millions of businesspeople have boarded planes on a regular basis to participate in important meetings and make an impact with their presence. Although the digital age has improved the options for working while traveling, business people are still committing countless hours to travel time and spending nights away from their families. 
Now, during times of social distancing, we are embracing new ways of making an impact and collaborating while not being in the same room. Many are surprised by how well it can work, even when interacting with people we don't know well. Although video chats, message boards, and phone calls can never fully replace face-to-face interactions, people might now think twice before boarding a plane for a meeting.
Airlines Under Fire
Even before the crisis, the aviation industry was under pressure. The Fridays for Future movement expanded the collective awareness about sustainability and airlines found themselves in the crosshairs. Companies started to rethink their travel guidelines in an attempt to significantly reduce their carbon footprint and reduce costs. In our study, senior executives still expect business travel to stay on the pre-crisis level. The exception being the United Kingdom, where Brexit is expected to make intercontinental travel more important. However, our study leaves no doubt that there will be significant changes to corporate policies. Companies will be limiting air travel as part of the push to reduce expenses and achieve sustainability goals.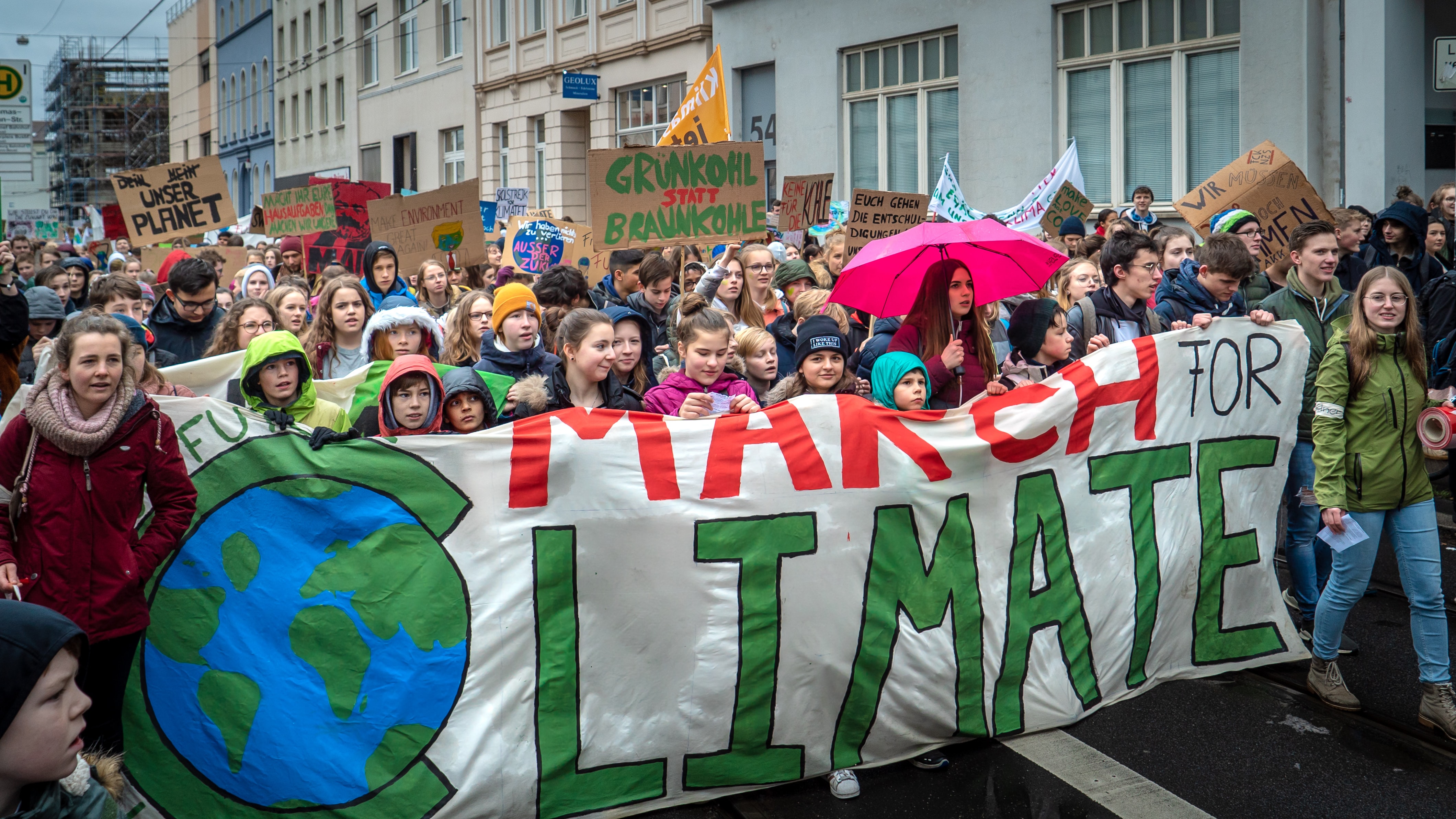 The COVID-19 crisis will be used as cloud cover to push through some of these changes. Corporate sustainability managers now find themselves in the perfect situation to advance their agendas with less pushback from employees. Thus, we expect a significant decrease in business demand compared with pre-crisis levels. Large companies' will boast stricter and more environmentally friendly travel policies, such as opting for trains instead of planes.
Building from the Bottom Up
Historically, the airline industry has outpaced global GDP. Previous crises led to small dips followed by periods of accelerated growth. Since 2010, the airline industry has outgrown global GDP by a factor of 2x. In December, the International Air Transport Association (IATA) projected another good year with 4 % growth. In March 2020, that projection was corrected to almost -40% based on significant cuts around the globe and an expected minimum duration of six months. 
This shows that the COVID-19 crisis is unprecedented in terms of its short-term impact and likely in terms of its long-term implications. With global travel restrictions, COVID-19 is hitting the aviation industry at its core in all regions simultaneously. Additionally, the crisis impacts the economy, which has been the driving force of airline growth—a double whammy.
For the airlines that survive, however, this crisis could also be an opportunity. Impacting the supply-and-demand balance may help the entire industry understand that a sustainable future requires higher margins and avoiding ultra-low seat prices. With less intense price competition, airlines could focus on improving their offerings for customers who are willing to pay for a tailored travel experience. Finding ways to attract passengers with a more comfortable door-to-door experience. Taking care of the public perception of the brand when it comes to sustainability are changes that airlines will need to implement during the crisis to bounce back stronger than ever.
Flying into an Uncertain Future
In the pandemic's aftermath, we will likely see decreased overall demand and different customer behaviors. Nevertheless, some people are already planning their next vacation and counting the days until they can fly again. For this customer group, airlines should develop attractive bundles in cooperation with travel and event operators. Using integrated portals with tailored on-demand offerings, airlines could even take a larger share of travelers' wallets. 
Nonetheless, some people might be more reluctant to fly. Airlines can address this group, including elderly people and families with small children, for example, by pointing out the low infection rates of their crews over the past months. In addition, they can use advanced filtering technology in their aircraft, and promote airfare and insurance bundles. On the business side, some customers will have adjusted their work routines and won't see the immediate need to board a flight for a day trip. For this group, airlines should invest in a superior travel experience tailored to individual needs. Personalized bundles, streamlined processes, innovative catering concepts, and an integrated end-to-end travel experience could make air travel an event of its own right rather than just the means of getting from point A to point B.
And then there's Greta Thunberg. Sustainability and social responsibility will be vital to winning back the young generation. Greenwashing with a marketing spin won't be enough. Airlines will need to show their commitment to significantly reducing their carbon footprint and develop credible sustainability strategies and ambitious road maps. Innovative products and features, such as combining air and rail, CO2-neutral ground operations, more efficient aircraft, and sustainable aviation fuel should be at the core of these strategies.
Airlines will Fly Again
Every crisis can also be an opportunity. Airlines can't influence how demand will develop in the next couple of months, but they can start doing everything they can now to emerge stronger than before.
As a global consulting partnership in more than 40 countries, our people make us who we are. We're individuals who take as much joy from those we work with as the work itself. Driven to be the difference between a big idea and making it happen, we help our clients breakthrough.