Attracted by the investment opportunities in Dubai but unsure where to start? We have put together a guide for non-residents looking for the best investments in Dubai.
As a 'geographic and economic lynchpin' of MENA and South Asia, Dubai offers a world of opportunity to potential investors. With its population increasing at an annual rate of 10.7%, it is one of the fastest-growing cities in the world. Its location is highly strategic; all major business hubs in MENA can be reached in under four hours. Dubai is a lucrative venue for international trade not only because of its geographical position as a gateway to some of the world's most attractive growth markets, but also because of its highly favorable tax conditions. The lack of personal income tax distinguishes the UAE from almost all other national fiscal policies around the globe. The virtually tax-free environment offers maximum profit to a potential investor, earning Dubai the reputation of an expat haven.
It currently stands that the UAE is the fourth-best country in the world to invest in. Last year, it ranked first in the Arab world and 15th globally in Kearney's FDI Confidence Index, significantly outperforming major global economies such as Brazil, Singapore and Australia. Indeed, the UAE is the chosen foreign direct investment (FDI) destination of over 70% of Fortune 500 companies. In 2021, FDI inflows in the UAE grew 3.9% to reach 75 billion AED. The country's total FDI balance reached nearly 630 billion AED by the end of the year, reflecting a 13.7% increase from 2020. The UAE therefore ranked first across the globe in attracting FDI projects in 2021 and Dubai emerged as the leading global city, with 74% of the UAE's FDI. There is an abundance of options for foreign investors looking for business in Dubai, across sectors including traditional and renewable energy, real estate, finance and agriculture.
While the city may appear to be an investment wonderland, it is important to start your venture being aware of the cons, as well as the pros, of being a foreign investor in Dubai. Residency issues are at the top of the list, since citizenship is almost impossible to acquire as a non-Emirati. However, you can obtain a long-term residence permit, subject to successful and consistent renewal. One way to access this permit is through the Dubai Property Visa scheme. There are visas available with three, five and ten-year residency, each corresponding to the value of your investment. For example, if you invest in a property in Dubai valued at a minimum 750,000 AED, you are entitled to the three-year visa. If you are seeking a ten-year investor visa, you must put money into public investments of at least 10 million AED ($2.72 million).
The UAE government is keen to support the engagement of foreign investors in the economy, demonstrated by the establishment of 40 FDI-appealing free zones. In addition, the investment opportunities in Dubai are excellent, with virtually every major global corporation represented in the city. To break down these opportunities, we have identified the three most effective ways of investing in Dubai: real estate, business investments, and mutual funds, stocks & shares.
1. REAL ESTATE
When considering investing in Dubai, real estate is probably the first sector that springs to mind. Boasting world-famous real estate projects such as the Palm, Atlantis Hotel and the Burj Khalifa, Dubai also boasts a strong real estate market. Since 2002, foreigners have been allowed to buy, sell and rent property in Dubai without special permits, resulting in a booming market. According to the Dubai Land Department, 43,000 property transactions amounting to over $31.3 billion took place in the first half of 2022 alone.
Entering the rental market is arguably one of the best investments in Dubai. In 2021, Dubai's average rental yield emerged at a chart-topping 9.19%. With this high yield potential, there is significant scope for high return, provided you are clued up about where to buy your property. Focus on developments with strong rental markets in appropriate and appealing areas. Remember though that, while there is no property tax in the UAE, rental income in the UAE is taxed at 5%. The exception is Abu Dhabi, where there is no municipal tax on rented premises.
Looking ahead, property price rise predictions in Dubai are optimistic. Market analysts in a recent Reuters poll forecast an average rise of 6.5% in 2022 and 3% in 2023. While these results are lower than those predicted in May, in the context of a global inflation rise, these figures are comfortably positive, while those of Canada, New Zealand and Australia are expected to fall in both years.
There are potential pitfalls when investing in real estate in Dubai. It is advisable to avoid an automatic over-focus on real estate when there are other lucrative options available. Recent years have seen an oversupply of new developments which, in many cases, exceed demand. This is partly due to its saturated property market, and partly due to the sharp fall in activity at the height of the pandemic.
Global inflation is a double-edged sword when it comes to the Dubai property market. On one hand, the Dubai market is keeping affordability in check while other major global property markets are dealing with skyrocketing house price inflation. On the other hand, inflation is only increasing, and the housing and rental markets can be expected to take the strongest hit.
Another factor to consider is that around 85% of total investment going into Dubai's real estate is cash-based, or 'offline.' Combined with the difficulties faced by non-resident investors of obtaining a mortgage, until recently the opportunity has been open exclusively to the wealthiest international investors.
However, this lack of accessibility and transparency is being countered by companies like Stake. In a recent interview with Time magazine, co-founder Rami Tabbara explains how his company is bringing the Dubai real estate market into the digital space. International investors can put a minimum of 500 AED into one of the fully-vetted properties available on the Stake app. The property is bought by Stake once it is fully funded, and each investor receives a monthly dividend proportionate to their investment. This eliminates the need for a large down payment, usually the full sale price in cash, and opens the market up to a wider group of investors.
Finally, there is the hassle and risk of purchasing property, particularly as a non-resident. If you want to benefit from Dubai's real estate market without buying a property outright, you can invest in Real Estate Investment Trusts (REITs) instead. REITs are essentially stocks of companies which purchase real estate properties. There are two types: Equity REITs and Mortgage REITs. If you are seeking a stable source of income from your Dubai investment, REITs mostly pay their investors in monthly dividends. Not only do they tend to remain steady through a variety of market conditions, but also on average produce a higher yield than other equities. Liquidity is a bonus; REITs are easily converted into cash as they are traded on the major stock exchanges. There are two REITs currently listed on Nasdaq Dubai: Emirates REIT and ENBD REIT.
2. BUSINESS INVESTMENTS
With its diverse, high-quality trading opportunities, establishing a business in Dubai is an attractive concept to many entrepreneurs. Until recently, only UAE nationals could hold the majority share in commercial companies, but now international shareholders are permitted 100% ownership. With this new legislation, non-Emiratis can fully establish businesses in Dubai.
E-Commerce, tourism and construction are traditionally some of the most lucrative sectors. However, it is also worth considering SaaS options which have become highly sought-after with the explosion of digital services accelerated by the pandemic. These include IT Solutions, Logistics, Digital Printing and Digital Marketing.
If you plan to set up a business in Dubai, as a non-resident you can register your enterprise by contacting the UAE Department of Economic Development. The capital requirements will depend on factors including sector, entity, activity and type of license required. The Ras Al Khaimah Investment Authority (RAKIA) provides support for entrepreneurs with advice on establishing and successfully growing a business in Dubai.
3. MUTUAL FUNDS AND STOCKS & SHARES
In order to invest in the Dubai-based UAE stock market, you must first open a trading account with a broker registered with either Dubai Financial Market (DFM) or Nasdaq Dubai. Nasdaq Dubai is the major international stock exchange, with a comprehensive regulatory framework listing regional and international shares in the Middle East. It offers a range of securities to retail and institutional investors, whether based in UAE or elsewhere.
Putting money into stocks, bonds, shares and mutual funds via the Dubai Financial Market (DFM) is arguably one of the best investment in Dubai.
In terms of stocks, it is worth looking at international digital platforms like Plus500 and eToro which offer access to a diverse cross-section of global stocks. If you're starting out, you may want to hire a professional broker to manage your investments: a ranked list of registered brokers based in the UAE is available on the DFM website.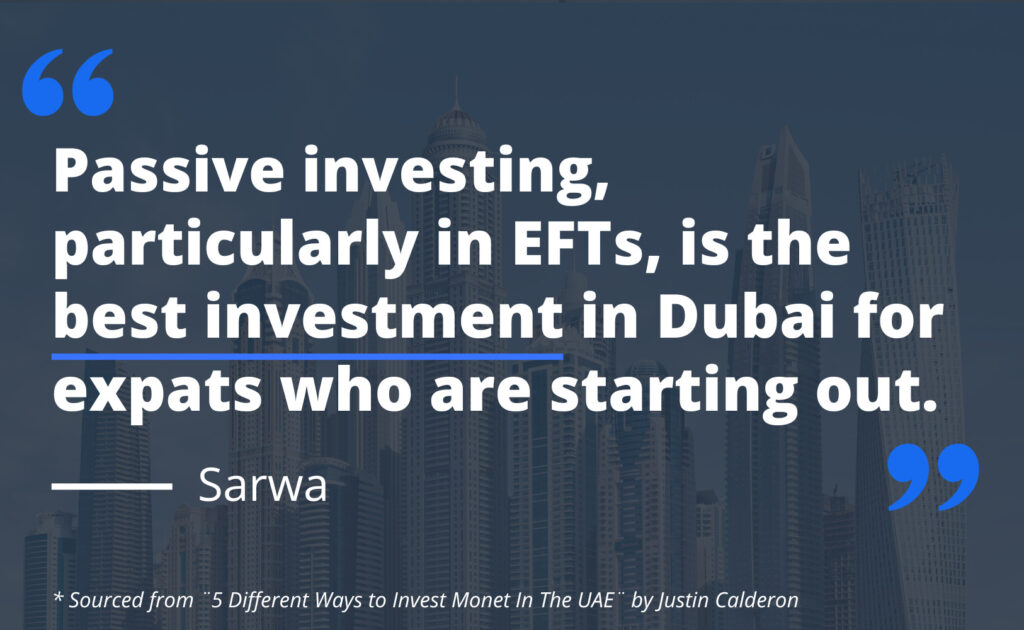 Financial platform Sarwa claims that passive investing, particularly in EFTs, is the best investment in Dubai for expats who are starting out. It is certainly a safer and lower-stress option than purchasing real estate or setting up a business. Investing in this way also avoids exclusively stock investing in individual companies and works towards a diversified portfolio.
If you are seeking a mutual fund, first make sure their investment objectives align with your own. Competitive past performance, expense ratio and customer service are also factors to consider. Emirates NBD, CBD, HSBC and ADCB are some of the UAE-based banks offering mutual funds; starting with a SIP (systematic investment plan) where an investor can pay in a minimum of 734 AED ($200) on a short-term, monthly basis.
What is the main takeaway?
Ultimately, there are plenty of lucrative options available for non-residents to do business in Dubai. FDI Dubai offers advice and guidance to foreign investors, from free zones to the most strategic sectors. As long as you carry out sufficient research and avoid the 'all eggs in one basket' approach, there is little reason not to invest in Dubai.
A common concern among potential investors in Dubai is that the UAE's economy may suffer with the decrease in oil demand expected over the coming decades. However, while a significant proportion of the UAE's revenue still comes from oil production, the government is acting to promote other sectors in the UAE economy.
With FDIs in the UAE soaring in recent years, now is the time to make your investment in Dubai.
---
FAQs
1. Why invest in Dubai?
Dubai is a fast-growing, lucrative venue for international trade, not only because of its strategic geographical position but also because of its highly favorable tax conditions. The UAE is currently rated as the fourth-best country to invest in, and offers an abundance of high-return opportunities for foreign investors.
2. Is buying property in Dubai a good investment?
Dubai's real estate market has seen an unparalleled growth spurt in recent years, leading to a property market boom which has attracted high levels of international interest. With no taxation on property in the UAE, investing in Dubai property is a good fiscal investment, but also affords certain privileges to non-resident investors, specifically in terms of residency.
3. How can I invest in property in Dubai without a large cash down payment?
There is a common question in a sector where most transactions are in cash, or 'offline'. There are two ways: firstly, you can invest in REITs (Real Estate Investment Trusts), which pay investors monthly dividends proportionate to their investment. The same principle applies to the second option, using apps like Stake to invest in property for as little as 500 AED.
4. Where should I start investing in Dubai as a foreigner?
When starting to invest in Dubai, the option with least risk and hassle is passive investing in mutual funds or EFTs. For individual investors, EFTs are the ideal asset with which to diversify a portfolio, and mutual funds represent a safe option which can be left to qualified and professional expertise.
5. Should I start up a business in Dubai?
An international hub full of opportunity, Dubai is an ideal location for entrepreneurs to establish their businesses. As of 2021, non-residents are permitted 100% ownership of commercial companies, eliminating the need for an Emirati majority shareholder.