Written by Olivia Millard
The average CEO has 2 hours of downtime each day, according to The Harvard Business Review. Yet, most of them read five books every month: that's 60 books a year. Allocating time towards self-improvement and business insights can be highly beneficial for business leaders and their companies, but time is of the essence.
To save you the stress of deciding which books to read, we compiled a list of the best books for CEOs that focus on growth amid an ever-changing global economy. These books are aimed at both current and future CEOs and address leadership, the future of work, strategy, investment, and financial intelligence.
Our Top 8 books for CEOs
1. Remote Work Revolution: Succeeding from Anywhere – Tsedal Neeley
This book is one of the first of its kind in providing evidence-based answers on how to navigate the transition to remote work.  Harvard Business School professor Tsedal Neeley provides a blueprint on how to maintain a dynamic, motivated team in a digital environment, using actionable steps and interactive tools. 
Neeley spent over a decade studying international companies and decentralized teams, and she applies the results of this research to the COVID-19 era. The book is written using a well-defined roadmap and clearly demarcating lessons. It also includes a condensed action guide at the end. Remote Work Revolution is a top read for CEOs and leaders moving forward into the post-pandemic world.
2. The Intelligent Investor: The Definitive Book on Value Investing – Benjamin Graham, Jason Zweig, and Warren E. Buffett
A book that is globally praised for its proven strategies. Benjamin Graham, an experienced investor himself, has been a great inspiration for many CEOs seeking investment opportunities. This guide, written in collaboration with investment gurus Jason Zweig and Warren Buffett, is referred to as THE investment advisory of the 20th century.
The Intelligent Investor has been updated and adjusted according to the latest developments and current markets resulting in a complete and comprehensive topical book on investment. The book can be used as a guideline for CEOs interested in investing or it can provide tips and tricks to CEOs that are already experienced in the field but are looking for in-depth information.
3. Developing the Leader Within You 2.0 – John C. Maxwell
When it comes to finding the best books for aspiring CEOs, John C. Maxwell is a good one to start with. He is an internationally recognized leadership expert, teacher, and author, and he has sold 26 million copies of his books across the globe, in 50 languages.
This book is the second, updated version of the worldwide bestseller Developing the Leading Within You, published in 1993. Drawing on his own experiences as a leader for over 40 years, Maxwell provides invaluable insights and advice that aim to 'add to your effectiveness, subtract from your weaknesses, divide your workload, and multiply your impact'.
According to Maxwell, great leaders are made by their ability to empower others, not by their ability to accumulate authority. He bases his argument on the ten principles of leadership, creating a comprehensible, well-structured guide for every business leader.
4. The First 90 Days – Michael D. Watkins
With hundreds of thousands of readers across the globe, this is one of the best books for future CEOs, offering a systematic plan to optimize your first 90 days as a CEO. Watkins explains how to hit the ground running by planning your goals after the first day – week – month – two months – and three months.
Watkins states that it is crucial to match strategy to situations and this is exactly what this book aims to explain. Using a range of management strategies, Watkins describes how to develop a roadmap ensuring that the momentum is not lost in a new role. He uses common example situations to demonstrate how to apply theoretical matters in real life.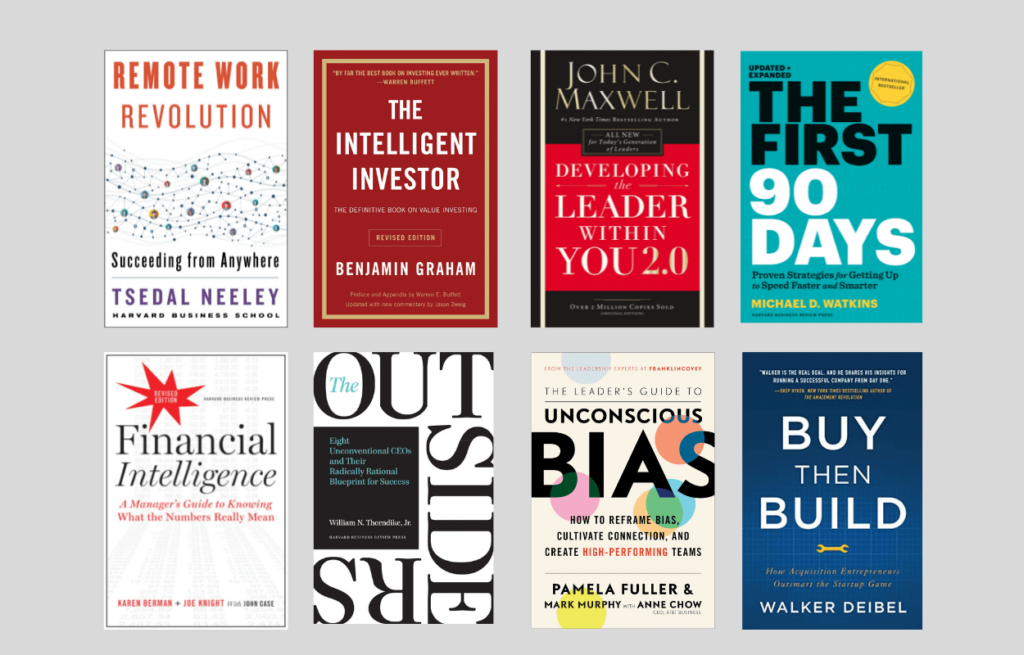 5. Financial Intelligence: A Manager's Guide to Knowing What the Numbers Really Mean – Karen Berman and Joe Knight
According to Forbes, only 22% of F100 CEOs began their career in finance. Yet, all CEOs, across all countries and industries, must have a working knowledge of the financial data that makes up their company: if most corporate firms are measured by numbers, leaders must understand how their decisions affect these numbers.
Berman and Knight have trained tens of thousands of leaders in acquiring financial intelligence. They examine the key components of corporate finance, balancing out theory with practical examples of business models. Not only does this book for CEOs break down financial jargon into comprehensible terms, but it also teaches rational decision-making when it comes to financial reporting.
6. The Outsiders: Eight Unconventional CEOs and Their Radically Rational Blueprint for Success – William Thorndike
What defines your success as a CEO? Is it your outstanding leadership, analytical skills, or innovative strategy? In this book, a different approach to success is described: a way that led to financial success through consistency and relentless rationality. It emphasizes the compelling, rational way of eight executives whose road to a substantial return on investment was outstanding but controversial.

Their success was mainly a result of investing and evaluating the performance of interesting businesses. In this book, the stories of eight CEOs, whose firms' average returns outperformed the S&P 500 by a factor of twenty, are shared resulting in an extensive guide on how to achieve a positive return on investment.
7. The Leader's Guide to Unconscious Bias: How to Reframe Bias, Cultivate Connection, and Create High-Performing Teams – Pamela Fuller and Mark Murphy with Anne Chow
Awareness of unconscious bias is vital to being a fair and respected leader. The book explains that, while most bias is unintentional, leaders who actively choose to discover their unconscious bias are significantly more likely to be trusted by their employees and clients.
By using the extensive experience of writers as diversity analysts and thought leaders, Fuller has created a toolkit for executives looking to improve both themselves and their companies by opening their minds and behaviours. This book deserves a place among the best books for CEOs: it encourages positive change as diversity and indiscrimination become priorities in the workplace.
8. Buy Then Build: How Acquisition Entrepreneurs Outsmart the Startup Game – Walker Deibel
This book offers valuable advice on becoming a successful acquisition entrepreneur, based on the experience of seasoned investor Walker Diebel. Diebel has co-founded three startups and acquired seven companies, all enhanced by research and data. 
Deibel provides guidance ranging from long-term financial strategies to effective communication with brokers, covering all the key steps in acquiring your own company. In the context of a highly competitive market, where 534,000 new businesses are started in the US every month,  his advice offers a viable alternative to starting your own business.
---
FAQ:
1. What are the best books for aspiring CEOs?
Future CEOs can increase their eligibility for the role by reading a range of
material, from personal development books by the likes of John C. Maxwell
to business autobiographies, such as Phil Knight's Shoe Dog, and
management guides.All of which will help cultivate executive traits and
leadership skills.


2. What books do CEOs read?
The top reads for CEOs are based on learning from the experiences and
research of others. This is our list of best books for CEOs:
1. Remote Work Revolution: Succeeding from Anywhere – Tsedal Neeley
2. Developing the Leader Within You 2.0 – John C. Maxwell 
3. The First 90 Days – Michael D. Watkins
4. Financial Intelligence: A Manager's Guide to Knowing What the Numbers Really Mean – Karen Berman and Joe Knight
5. The Outsiders – William Thorndike


3. How do CEOs benefit from reading books?
Reading the right books can be a valuable choice in terms of optimizing
performance. Being a CEO is not just about reaching the top positions, it is
about thriving and continuing in your role once you get there. One of the
most effective ways of doing this is by learning from the mistakes and
successes of others.


4. Is it possible for CEOs to make time to read books?
CEOs have approximately 2.1 hours of downtime each day; if the average
executive is reading at least one book a week, it seems that reading is a
a valuable way to invest your time as CEO.


5. What are audiobooks for CEOs?
Audiobooks are spoken books that you can download as an audio file. You can listen to the file on a desktop, mobile phone, or e-reader. Audiobooks for CEOs are:
1. Developing the Leader Within You 2.0 – John C. Maxwell
2. The Intelligent Investor: The Definitive Book on Value Investing – Benjamin Graham, Jason Zweig, and Warren E. Buffett
3. The First 90 Days – Michael D. Watkins
4. Financial Intelligence: A Manager's Guide to Knowing What the Numbers Really Mean – Karen Berman and Joe Knight
5. Buy Then Build: How Acquisition Entrepreneurs Outsmart the Startup Game – Walker Deibel
6. The Leader's Guide to Unconscious Bias: How to Reframe Bias, Cultivate Connection, and Create High-Performing Teams – Pamela Fuller and Mark Murphy with Anne Chow
7. The Outsiders: Eight Unconventional CEOs and Their Radically Rational Blueprint for Success – William Thorndike